Perhaps one of the most difficult aspects of editing your resume is deciding which advice to take and which advice to not take. Like most things, many people have different opinions on the best methods for writing a resume. Should you include an objective statement or should you not include one? How many years of experience should you include? What skills should you include?
Depending on your current role, the role you're searching for, and your relevant experience, some of these aspects can differ. However, we always recommend you include hard skills rather than soft skills in the section of your resume that is specifically for skills. To help you decipher which is which, we've laid out the differences between the two and given our recommendations for each.
What are soft skills and what are hard skills?
Before we can get into where and when to include these skills, we have to define them first.
Soft skills can be defined as "any skill or quality that can
be classified as a personality trait or habit," according to Indeed.com.
Essentially, a soft skill can be looked at as characteristics you may possess. Are you dependable? Are you adaptable? While these qualities are beneficial for you to possess, they don't necessarily need to be a part of their own section. Instead, consider how you can work these traits into your bullet points that are emphasizing your accomplishments. We'll talk more about that later.
Hard skills or technical skills, on the other hand, are a lot more important to separate from the rest of the information on your resume.
Hard skills can be defined as "teachable abilities or skill sets that are easily measurable. [They are the] technical abilities that fit the job," according to experts at Zety.
Unlike soft skills, hard skills can't be acquired without effort and industry knowledge. There's plenty of places where you can learn these skills including college courses, certification courses, textbooks, and sometimes even online tutorials. Because of their usefulness, these skills should be placed within their own separate section on your resume. Now, let's talk about that.
Why these skills are important and where to place them
The benefit of possessing soft skills is that they are generally transferable between various roles and industries. No matter your position, it can be helpful for you to be able to have strong verbal and written communication skills, right? However, you don't need to put this soft skill next to your ability to use Microsoft Office Suite.
Instead, discover ways to incorporate these skills into your bullet points and your cover letter. Let's take a look at an example of a bullet point where you can include your strong leadership skills.
Led a team of 6 creative staff in producing innovative, effective content; provided trainings, applied project management strategies, and encouraged collaboration and ownership of work to drive team success
This bullet point not only includes your accomplishments, but it also highlights where your leadership skills came in handy without having to simply claim that you possess that skill. See the difference?
Now, hard skills and technical skills are a different story. The best place to place them on your resume is within their own section. This way, hiring managers can see within seconds what relevant skills you have for the role you are applying for.
For example, if you're interested in a software engineer role, it will be in your best interest to include any coding languages you know or other softwares you've used such as JAVA or Python.
Now that you know the difference between the two skills and where to use them, here are some of the most common soft skills and hard skills that hiring managers look for: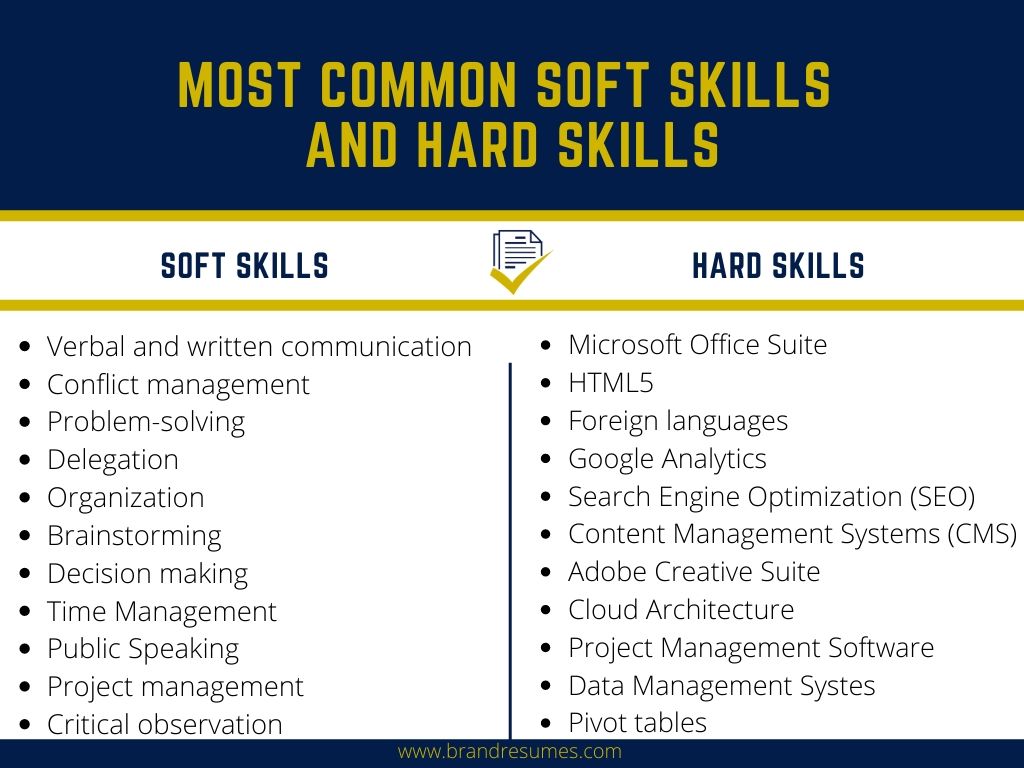 Again, the most sought out hard skills can vary by industry, but there are some technical skills that all job seekers can benefit from knowing. If you really want to give yourself an edge, the best way to utilize your hard skills are to couple them and become certified. For more on what those skills are, check out our article here or watch the below video on why certifications still matter in 2020.
Now that you can identify the difference between soft skills and hard skills, you can create a resume that highlights your capabilities. If you're still struggling, we here at BrandResumes can help.